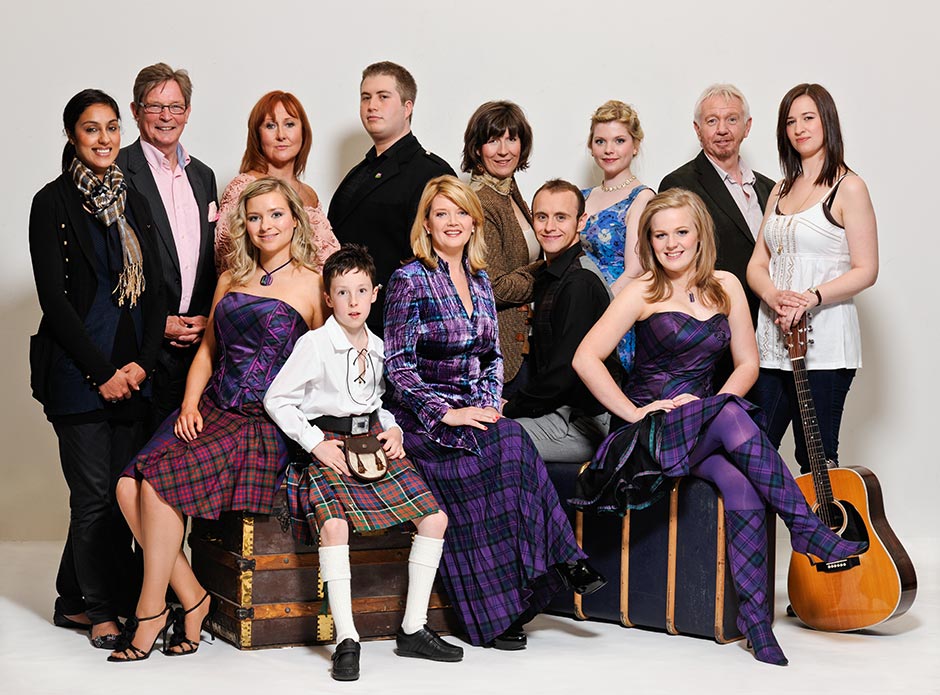 'The Kist' is a vibrant, new production which won 5 star reviews at the Edinburgh Festival Fringe.
Featuring Fiona Kennedy, outstanding singers, actors, musicians, 'The Kist' opens up a fascinating musical journey – Lowland love songs to bluegrass and country, Gaelic mouth music to African tribal rhythms, Burns to KT Tunstall, Woody Guthrie to Paolo Nutini. The Kist unpacks a nation's cultural treasures, precious music and words which flourish wherever Scots have travelled.
The word kist, means a chest, or a trunk and is thought to have its origins in Greek and Latin, but over the centuries, the Scots absorbed it, made it their own, and made it mean so much more. Wherever the Scots travelled, embarking on their new lives, they took their sturdy wooden kists, packed tight with their most treasured belongings, their music, their heritage.
'The Kist' is entertainment at its best, a nation's music experience gathered from around the world and distilled back home here in Scotland.
How the production came about…
When singer songwriter Fiona Kennedy first visited Ellis Island near The Statue of Liberty, ten years ago, The National Museum of Scotland was holding an exhibition. At the entrance, there was vast amount of Scottish kists piled high, all shapes and sizes, representing a hugely important part of Scotland's history.
During the 18th Century, thousands of Scots headed for the American, Canadian and Australian shores. They left for many reasons – the promise of a new life, an escape from poverty, forced off their land, or simply out of a sense of adventure. Some travelled in style: many suffered a long and arduous crossing.
Fiona could not get these kists out of her mind, many were beautiful pieces of furniture in their own right. Others home-made, bashed and battered from their journeys across the Atlantic Ocean.
Each one contained treasures. Simple things, often, tools of the trade – hammers, hoes and fishing lines. Beautiful things: pieces of finely crafted lace, christening robes. Luckenbooths, small tokens of love. Clothes of course. Even sheet music. Pride packed in kists.
The night after visiting Ellis Island Fiona couldn't sleep and by 3am she had written three verses of a song called The Kist but not a tune…..yet!
Fast forward seven years, the words of the song lay in a drawer , but it's something Fiona felt would evolve. She  happened to mention the song – and its inspiration – to Beth Nielson Chapman, at Celtic Connections, who loved the word 'kist' and the Ellis Island story. Fiona asked Beth if they could write together and see if the song might take a step further. Some time after they met in Belfast where Beth was performing, the next part of the journey of the song commenced. They  collaborated to complete the song and recorded shortly afterwards for a PBS production in America where it received wonderful reviews.
The next step for Fiona and 'The Kist' was meeting Nashville based Grammy Award winner Marcus Hummon through Beth, whose song writing and musicianship is greatly admired by many. She asked him if she could come over to Nashville and try write a song with him for the stage production 'The Kist'. They sat down together in the Liberace Room  at Warner Brothers Studios and wrote 'The Crossing Over' especially for the production!
And so the journey continues…